New Recertification Process – CASTiNET 3.0
Begin an application. Fill out all the required information. This includes the following:
Who Is Applying?
Service Partner
Account Number
Name on Account
Benefit Type
Optional: Notes applicable to this service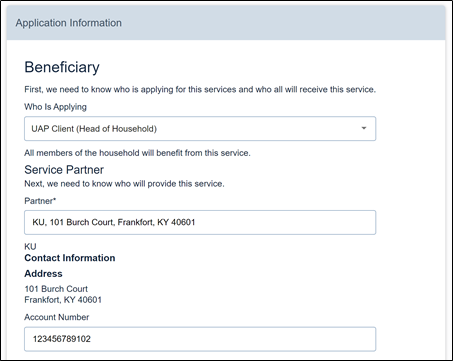 Click Save & Continue when you are ready to complete the application.
If you are not ready to do this yet, you can Save as Pending and return to the application later from the History screen or Programs & Services screen.
On the Review screen, click the new checkbox "This is a recertification".
Click Approve. The system will check for existing applications in an Enrolled status that meet the following criteria:
Application is in the last 12 months
Application uses the same account number
Application has the same benefit type (electric, natural gas)
Application is the same type of program (KU HEA, Columbia Gas EAP, Delta Gas DEAP)
If the system finds an application that meets all of the above criteria, it will do the following:
Complete the new application and give it an Enrolled status. This is the Recertification. Note the Status and the Change Log.
Update the old application to Expired status. This is the application that was recertified. Note the Status and the Change Log.