How to check the status of a client enrolled in Kentucky Power's HEART Program:
Locate the client's Kentucky Power Application by searching for the client.
Go to the Service Overview screen for the client's HEART application. You can go there by either locating the client in the client search screen, or by searching for the service ID.
Look for the "Status" indicator with the status below it. You can see the full history of status for the client at the bottom of the screen in the "Change Log".
The possible Statuses on in order are:
Approved: the client has completed an application and are eligible.
Waitlist: the client was determined eligible, but is awaiting an empty slot.
Ineligible: Kentucky Power determined that they are not eligible for the HEART program.
Received Service / Enrolled: KY Power has indicated that the client has been placed into a slot to receive service.
Withdrawn: A request has been made to remove the client from the program.
Removed: KY Power has confirmed that the client has been removed from the program.
An example of a client on waitlist: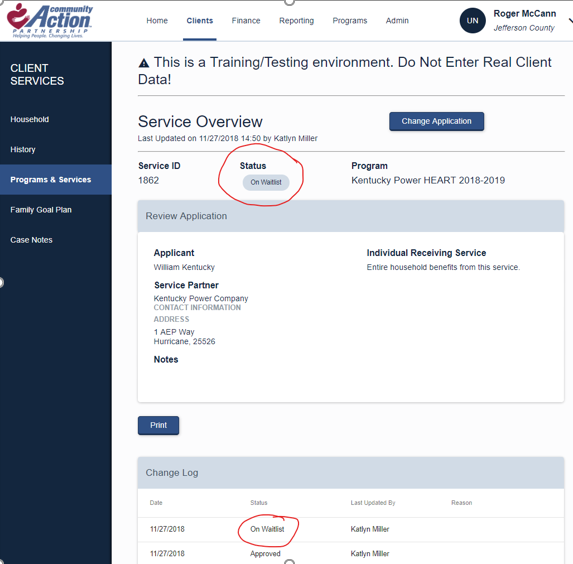 an example of a client enrolled into a "slot" by Ky Power:
keywords: Kentucky Power, AEP, American Electric Power, HEART, THAW